LMUe6000 series [Standard model]
LMUe6000 is a standard model labeling machine of touch panel controller type. The labeling unit adopt module structure and it can meet various needs thanks to optional units.
Color touch panel controller "EUI"
The contoroller is easy to understand touch panel formula. Simple selection on the touch panel at the time of type switching.
Variety Registration
Such as a label affixed position, setting of each type can be registered. Quick variety switching is possible with EUI.
Auto tuning
Label stopping position differs by the label length. Auto tuning function can adjust the position automatically.
Log information
EUI operated log and error log are kept 3,000 latest each. In case of trouble, you can investigate the cause promptly.
Automatic speed detect function
It can automatically detect the product speed without the encoder unit and can be installed into existing conveyer by bolt-on.
Pasting method to choose
According to the production line, product shape, label affixing position, etc., you can select a pasting method from the following five types.
Roller type(LMUe6000-N)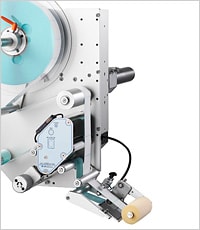 General type of pasting method. It can label on products in motion without stopping. The structure is simple and equipment cost is economical.
Cylinder type(LMUe6000-A)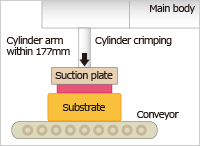 Pasting by extending cylinder arm with label absorbing head. It pastes when the product stops moving. It is suitable for jobs requiring accuracy in pasting position.
Air blow type(LMUe6000-B)
Pasting method is non-contact, air blow type. It can surely paste on uneven or bumpy product surface.
Cylinder jet type(LMUe6000-CJ)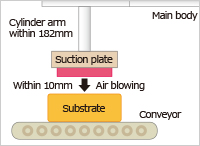 Attach by blowing air near the product with a cylinder. Suitable for pasting without stopping the transport to lightweight objects.
Press jet type(LMUe6000-PJ)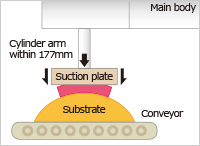 Attach by pressing against the product with a cylinder and blowing with an air jet at the same time. Ideal for applications that are securely attached to curved surfaces.
Specification
Model
LMUe6000
Type
Standard labeling machine
Labeling speed
2 m/min to 25 m/min
Label specification
Basement paper width:18 mm to 125 mm
Label length:15 mm to 200 mm
Roll diameter (O.D.):Φ300 mm
Paper core (I.D.):Φ75 mm
Drive method
Stepping motor
Power supply
AC100-240 V, 140 VA, 50/60 Hz
Weight (main body)
20.4 kg
Operating environment
Temperature : 5℃-40℃
Humidity : Under 90%RH (no dew condensation)
Printer installation
○
※The above specification is the specification of LMUe6000-N(roller type).
※The specification may differ from conditions of use. Specification and other information are subject to change without notice.