LMC6000 [Space saving model]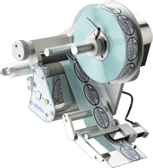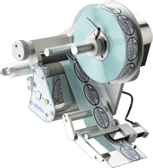 Compact size
There is LMC6000, allows for flexibility to installation by its compact size.
Auto speed follow-up
It can be synchronized automatically with any variable speed by the use of AC servo motor and encoder system.
Item management
Stopping position, applying position at each label are able to be controlled, item change is available by easy operation by color touch panel controller "EUI2".
Specification
Model
LMC6000
Type
Automatic speed follow-up type
Space saving type
Labeling speed
1 m/min to 40 m/min
Label specification
Basement paper width:18 mm to 105 mm
Label length:15 mm to 120 mm*
Roll diameter (O.D.):Φ220 mm
Paper core (I.D.):Φ75 mm
Drive method
AC servo motor
Power supply
AC200 V, 1.3 kVA, 50/60 Hz
Weight (Main Body)
13.0 kg
Operating environment
Temperature : 5℃-40℃
Humidity : Under 90%RH (no dew condensation)
Printer installation
-
*When the length of a label is 120mm or more, it can be respond according to the conditions to be used.
※The specification may differ from conditions of use. Specification and other information are subject to change without notice.