HP246 [For bag feeding packaging machine]
This machine is a intermittent hot foil coder for bag feeding packaging machine.
Print image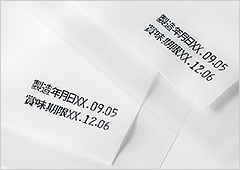 Specification
Model
HP246
Type
Intermittent hot foil coder
Maximum print speed
40 shots/min
Foil advance
30 mm Max.
Foil specification
Width : 35 mm Max.
Length : 10 0M
Foil failure detection system
○
Drive method
Brake motor
Control system
External box
Power supply
AC100 V, 185 VA, 50/60 Hz
Operating environment
Temperature : 5℃-40℃
Humidity : Under 90%RH (no dew condensation)
※The specification may differ from conditions of use. Specification and other information are subject to change without notice.