MTP3000B [Intermittent multilane]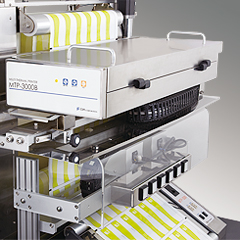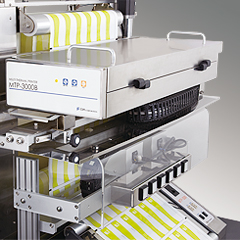 This coder is for multilane packaging machine, and its multilane marking is high-resolution print of 300dpi possible. Because of the adoption of proprietary thermal transfer system, it is not necessary to use type.
This coder has real-time clock, enabling real-time printing of automatically updated lot code and it is possible to print various codes such as barcode, QR code, Micro QR and so on.
Print image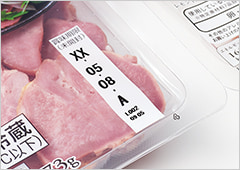 Specification
Model
MTP3000B
Type
Intermittent multilane thermal transfer overprinter (TTO)
Print resolution
300 dpi (12dots/mm)
Maximum print speed
333 mm/sec (9 steps)
Print-head speed between pitch
625 mm/sec
Print-head return speed
625 mm/sec
Ribbon feed speed
1000 mm/sec
Print location unit moving speed
135 mm/sec
Maximum print area
53 mm(W) x 100 mm(L)
Font size
24-96 dots (24 size/font)
Print expansion
Date Format, Date Stamp with Offset, Time, Shot Count, Shift Code, Custom Code
Barcode
EAN8, EAN13, ITF, CODE39, CODE128, GS1-128, GS1-Data Bar
2-dimensional Code
QR code, Micro QR code
Memory
SD card
Thermal transfer ribbon
600 meter
Interface port
RS232
Electrical requirement
AC200 V, 400 VA , 50/60 Hz
Operating environment
Temperature : 5℃-40℃
Humidity : Under 90%RH (no dew condensation)
※The specification may differ from conditions of use. Specification and other information are subject to change without notice.