About us
Company overview
Name

EDM CORPORATION

Head office

5-2, 3-Chome Itabashi, Itabashi-ku, Tokyo 173-0004 Japan
Phone:+81-3-3964-4852

FAX:+81-3-3962-1277

Branch
Osaka office

4-20-10, Kasuga, Suita-shi, Osaka 565-0853 Japan

Nagoya office

1684-1, Awato, Mitsubuchi, Komaki-shi, Aichi 485-0075 Japan

Kyusyu office

3-2-22, Yoshizuka, Hakata-ku, Fukuoka-shi, Fukuoka 812-0041 Japan

Sapporo office

14-3-7, Higashi, Kita 12-jo, Higashi-ku, Sapporo-shi, Hokkaido 065-0012 Japan

Niigata office

1-5-3, Abumi, Chuo-ku, Niigata-shi, Niigata 950-0913 Japan

Sendai office

3-10-5, Izai, Wakabayashi-ku, Sendai-shi, Miyagi 984-0038 Japan

Hiroshima office

6-18, Hirose-machi, Naka-ku, Hiroshima-shi, Hiroshima 730-0804 Japan

Techno center

392-11, Tomori, Kawajima-machi, Hiki-gun, Saitama 350-0197 Japan

Techno center second factory

408-1, Tomori, Kawajima-machi, Hiki-gun, Saitama 350-0166 Japan

Establised

August 14, 1970

Business

Automatic indication machine manufacturing and sales

Paid-in capital

30 million yen

Number of employees

462 (Current April 1, 2022)

Settlement term

April (1 time a year)

President and Representative Director

Takuhiro ADACHI

Senior Managing Director

Nobuyuki ADACHI

Managing Director

Noboru WATANABE

Director

Hideki ISHIKAWA

Operating Officer

Takahiro KUWABARA

Kanji FURUSAWA

Main bank

MUFG Bank, Ltd.(Shin-Itabashi branch)

Mizuho Bank, Ltd.(Itabashi branch)
We have expanded a share as a total planner of indication machineries
We aim to be a general company of indication machineries and keep maintaining the top of the industry in Japan. We have 70% of share in Japanese food market. And, we make effort to improve in order to respond to wide-ranging industries as well as we try to expansion of other share.
Our nationwide sales network cover 8,000 companies
Our essential sales style is direct sale. Therefore, we have to make our sales network of enhancement. Eight areas covering over the country and our sales network of 8,000 companies have supported growth of EDM well.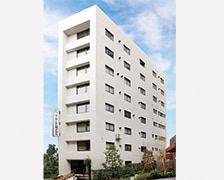 Head office (Tokyo)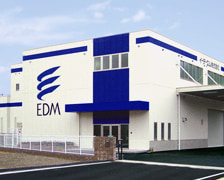 Osaka office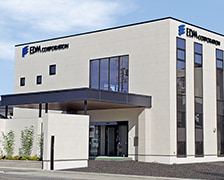 Nagoya office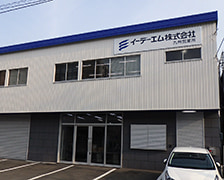 Kyusyu office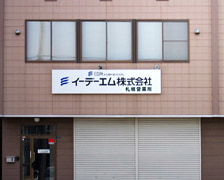 Sapporo office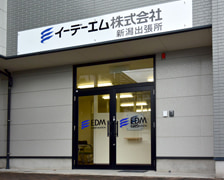 Niigata office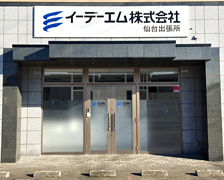 Sendai office
Hiroshima office
Techno Center plays a role as a technical base of EDM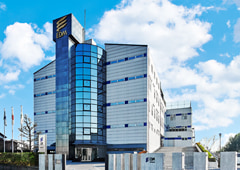 Techno center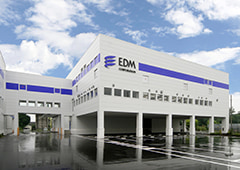 Techno center second factory
We aim to be a trusted general company as "a total planner of indication machinery".
The techno center assumes a central role in our business. Research and development of regarding to ID, design, technical support to customer, contracted manufacturing of label pasting and printing service, moreover, technical education training for employees and so on.
Techno center works as the technology base for gathering functions, which are technology, education, production, and central of EDM. Particularly, for promoting "Total planning activity of EDM" that catch the market needs quickly, analyze it and send out the our technology, and service of trust to customers.
Techno Center takes on a role as "The brain base" which catch global information quickly about new technology and indication evolving every day from a wide field and always stand in a situation of customers and make suggestion based on the latest information.
We try global development towards the worldwide
Our sales network is not limited in Japan. We provide durable indication machineries to U.S.A., Europe, Asia, and all over the world. And also we introduce superior products of overseas and import it aggressively.