LMFe6000-JM [Applying labels on the top surface]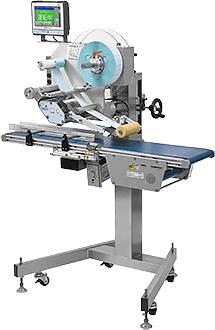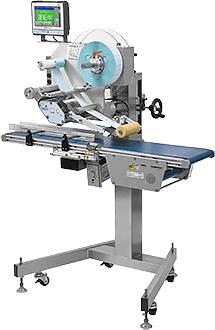 LMFe6000NS12-JM
(with options)
This machine is a standard labeling system with conveyor for applying labels onto the top surface. The simple designed contributes to easy handling.
Productivity
The labeling work by contributing to the improvement of productivity.
Variety registration
Such as a label applying position, setting each type of product can be registered.
Touch panel (EUI2)
Simple selection by the touch panel at the time of product changing.
Labeling image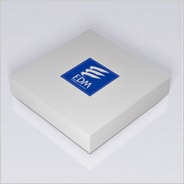 Specification
Model
LMFe6000NS12-JM (Left→Right carrier)
LMFe6000NR12-JM (Right→Left carrier)
Type
Top surface paste labeling machine with a conveyor
Variety registration
200
Labeling speed
2 m/min to 25 m/min
Label specification
Basement paper width:18 mm to 125mm
Label width:15 mm to 120 mm
Label length:15 mm to 200 mm
Roll diameter (O.D.):Φ300 mm
Paper core (I.D.):Φ75 mm
Conveyor specification
Belt width:200 mm
Belt length:1000 mm
Speed:7 m/min to 25m/min (Variable speed)
Products width:40 mm to 195 mm
Products height:40 mm to 145 mm
Conveyor height
775 mm to 855 mm (Adjustment bolt adjustment)
Drive method
Stepping motor
Power supply
Main body:AC100-240 V, 140 VA, 50/60 Hz
Conveyor:AC100 V, 25 VA, 50/60 Hz
Entire system weight
approx. 52.0 kg(Including body weight)
System dimensions
1000 mm(W) x 650 mm(D) x 1560 mm(H)*
*Maximum height
Operating environment
Temperature : 5℃-40℃
Humidity : Under 90%RH (no dew condensation)
Option
Position indicator
※The specification may differ from conditions of use. Specification and other information are subject to change without notice.